PRINTING OPERATIONS:
Process Color Digital Printing
Full color printing from business cards to booklets to posters ..., using the latest state-of-the-art technology. You will be amazed at the quality and shocked at the affordable prices.
Black & White Digital Printing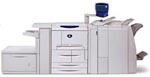 A more affordable digital printing when you only need black print. You can print anything from NCR forms to cover stocks. These in-line bindery operations also save you money on your black jobs: folding, stapling, saddle stitching, hole-punching, and collating.
Thermography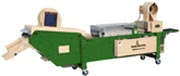 RAISED PRINTING
Have the beautiful look of raised printing. Bring your printing to life with print that "stands above" the paper. Consider this option as an affordable upgrade to your everyday flat printing on business cards, announcements, and stationery.
Flat Printing
Offset - Litho
We also offer traditional offset printing with up to two colors in registration. For your customers who enjoy the classic look of ink on paper without the "extras".
Foil and/or Emboss
Hot Foil Stamping, Blind Embossing
For your customers that need the elegant and/or flashy look of foil. Our standard foil colors are all metallic (by popular demand). Most any foil is available by request. Our in-house production services will allow you to have your foil job completed without transferring from vendor to vendor for services such as foil/embossing, printing, thermography, scoring, die-cutting, perforating, folding, cutting... Just think of the possibilities!
Foil Fusion
By popular demand, many of our customers have asked us for a process by which we can do short run foil jobs without the expensive die cost. Now we can. Although it is limited to smooth or coated stocks. We print your piece on the digital black printer, then run it through the foil press and the foil adheres to the print (toner). Variable information no longer costs an arm and a leg, if you have several people wanting their names foiled on their business cards, don't worry, there are no dies!