FREE STANDING UNITS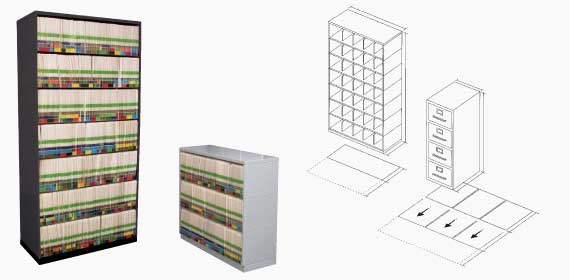 In today's competitive marketplace, the effective use of office space is important, if not essential. ThinLine products put more files in the same space or the same files in less space. ThinLine's space saving design and modular technology will provide you with maximum filing and storage flexibility. End tab filing on ThinLine tiers can provide you with significantly more filing capacity, in a given space, than conventional filing cabinets. Gone are the days of those big, bulky cabinets that seemed to take up more room than they provided in storage. Instead, ThinLine makes efficient use of its 1/8th inch shelf profile to provide 7 shelves where competitors are still only providing 6 or fewer! That represents significantly more capacity in a design that is already more functional, more versatile and more records management oriented.
The free standing units work equally well as single units or grouped in banks along a wall. They are available in 24 or 36 inch widths, ready to accommodate books, binders, letter and legal sized end tab filing, X-ray and new media storage.
The combinations are nearly limitless!
Constructed from high quality furniture steel and finished with electrostatic powder paint, they will look attractive in any office setting. Drive rivet installation and tier interlocking design provide durability and strength that makes ThinLine an investment. As free standing units or as part of a mobile system, ThinLine is your best filing system investment!