TAMBOUR DOOR
Spacefile Tambour Door System
File Storage System - HIPAA compliant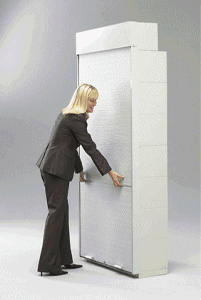 The Spacefile locking tambour door combines security with ease-of-use. This product is ideal for retrofitting to existing free-standing sections of ThinLine tiers and provides a great option for new installations of security sensitive high-density filing.
This is the only tambour door specifically designed for use with Spacefile ThinLine tiers.
The Spacefile locking tambour door is finished in Dark Grey and is available in 3 sizes. Installation is simple and quick.
GENERAL INFORMATION
Product Description: The Tambour Door is designed to ensure the security and privacy of medical records and other types of sensitive media. The Tambour Door includes a spring tensioned door which rides along a track, recessing into a top mounted housing, allowing for quick access to media. All doors include a conveniently located built-in handle for easy open/close. Each Tambour Door unit includes all necessary hardware and lock with two keys.
SPECIFICATIONS
Upright Rails: Each upright is formed of a one piece 16 gauge cold rolled steel channel running the entire height of cabinet. Each door assembly includes one pair of rail assemblies designed to install flush to face of shelving, and are securely fastenedwith appropriate mounting hardware. Each Upright Rail includes a formed c-shaped molded PVC guide-channel allowing for smooth door operation. Each rail assembly includes interlocking tabs allowing for proper spacing when attached to Door Base.
Door Base: Formed of 18 gauge cold rolled steel into a one-inch high channel. Door Base is positioned on the floor, includes corresponding slots for proper spacing for upright rails, and pre-punched for lock mechanism.
Door Housing: Formed of 18 gauge cold rolled steel into a box shape and designed to fit the Tambour Door mechanism. Includes pre-punched holes for proper alignment and attachment onto all Spacefile shelving. All mounting hardware included. Door Housing will add 9" to the height of shelving.
Tambour Door: Manufactured of plastic and extruded from high strength, wear resistant thermo plastic. All doors include factory pre-tensioned spring-loaded mechanism for proper balance and movement of door. All doors have built-in handle located approximately 32" from floor and include pincer-action lock with two keys. Locks are random keyed.
Finish: All steel parts are thoroughly cleaned using a three-stage iron phosphate washer and then coated with an Epoxy-Hybrid powder coat finish using a state-of-the-art electrostatic paint system. Powder coating provides a superior, attractive, uniform finish that is more durable, scratch and corrosion resistant, and environmentally friendly than liquid paint.